In Buddhist countries, the construction of a temple is considered like a humanitarian activity full of merits. For the Dharma preservation for several years, the Venerable Lama KonchogTharchin Rinpoche is engaged the construction of a school-monastery at the request of the local population of Mandoglu. The aim is to allow each child as a unique person in a country that has over a billion people, where parents are often poor and must send their young children at work. This project is also to give a chance of education to those children.
The Venerable Lama Konchog Tharchin Rinpoche, spiritual director of the Tibetan Buddhist Center Drikung Kagyu Rinchen pal in France began the construction of a Tibetan monastery known as DRIKUNG KAGYU THEKCHOK OTSAL LING in Tibetan or the TEMPLE OF BLISS or LE TEMPLE DE LA FELICITE.
The construction began in 2005 in a paradisiacal place, at Mandoglu in India, close to the sacred Lake of Padmasambhava (Rewalsar). It will allow lamas, Westerners seeking to study Buddhist philosophy or to pensioners, to create a school for 40 children, an international library, and a temple, important place of worship.
Generosity it is the result of a reflection on the meaning of our own life.You can participate in the construction of a rich project of sense and support the Temple of bliss with a donation.
Every donor will receive the complete file, with the architectural plans of the project. It will be also invited to the inauguration in the presence of his Holiness Drikung Kyabgon Tchesang Toulkou Rinpoche and 600 monks, lamas and nuns and thousands others people .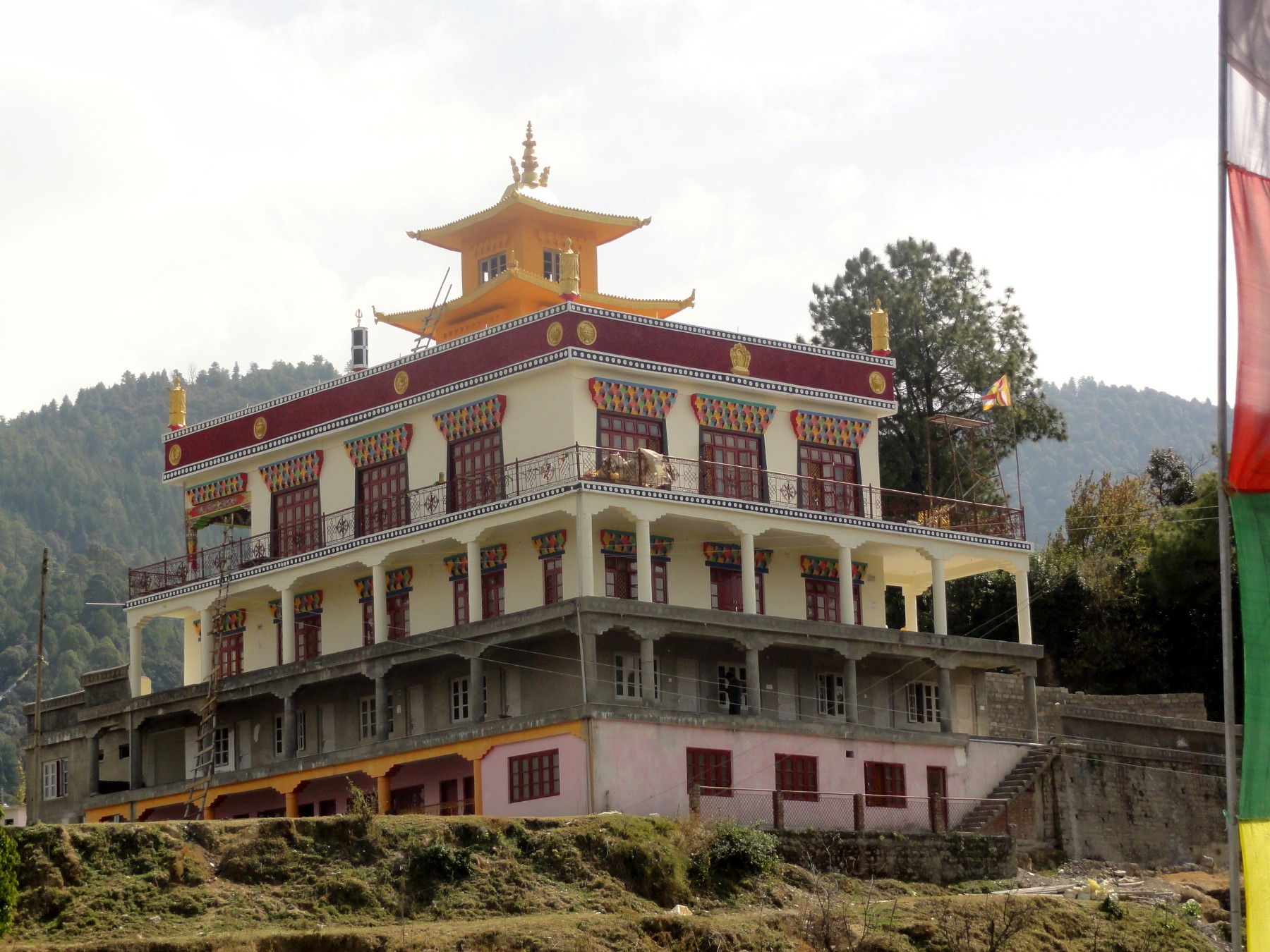 Form of participation in the project
THE TEMPLE OF BLISS "D. K. T. Otsal Ling"
This Centre will welcome Westerners wishing to study Buddhist philosophy or religion, an international library will be available for this purpose; retreats will be organized.
The school is scheduled for 40 children. The teaching of Buddhism fixed 5 primordial Science study: Tibetan, Hindi and English languages , grammar, medicine, tangkas, sculptures arts, mathematics and Buddhist philosophy...
Mandoglu is a small village located in the District of Mandi in Himachal Pradesh in India 20 km from Tsopadma or the sacred Lake of Padmasambhava, a very busy place by pilgrims and tourists. It is here that Guru Rinpoche or Padmasambhava was born in 2880 BC, on a Lotus.
The construction moves forward according to the donations. Companies participating in this project, will see their advertising badge on the website and the site in India.
Contribute to the construction of a Buddhist monastery permit to accumulate some greats merits and reborn in Dewatchen at death time. Tibetans, before dying, had built a stupa to be sure of rebirth in Amitabha's Pure Land. We thank all donors which permit the progress of this project. The final goal is to preserve and promote in all directions, the Tibetan Buddhist culture, to endure monastic education and the Buddhist studies for future generations, in order that all human beings reach the State of Buddha and suffering be eradicated for ever. By carrying out this virtuous action, may all beings involved in this project and others quickly achieve enlightenment."This monastery is my offering to the earth..."